History of the New England Society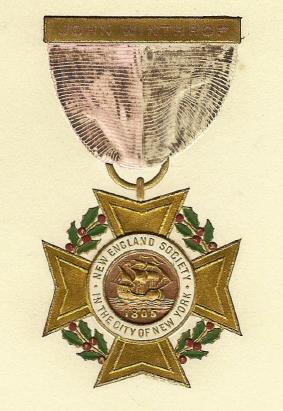 When the New England Society was founded, Thomas Jefferson was President and the population of New York was 75,770. In the decades following the American Revolution, there was a major migration of New Englanders to New York. Original founders and members of NES were inspired to band together by a love for their native New England and a desire to maintain its traditions and promote its culture.
Since our founding, our members have included notable individuals from law, politics, finance, industry, journalism, education, the arts and philanthropy. Many early members were involved in shaping and building New York City, from Horace Greeley, editor, writer and founder of the New York Tribune, to architect Richard Morris Hunt, who designed many city mansions and institutions. NES leaders included titans of banking and industry, such as financier and philanthropist J.P. Morgan (26th president), Moses Grinnell, builder of the world's fastest clipper ship (8th president), and William E. Dodge, Jr., co-founder of one of the largest copper mining companies in the world (31st president).
The first Annual Dinner was held on December 21, 1805, at the City Hotel on Broadway with 154 Members in attendance. A tradition began that evening of inviting well-known personalities of the day to attend the Dinner and deliver addresses of interest to NES members. A review of the roster of speakers who attended these Annual Dinners reflects the American historical narrative: from Commander Stephen Decatur, War of 1812 hero, and statesman Daniel Webster, to Mark Twain (Samuel Clemens). Fortunately, many of these orations are preserved in the NES Archives, including Mark Twain's speech, The Weather of New England. Another tradition that began on that festive December 21st evening was that of fine dining and toasts. At that first Annual Dinner, 18 toasts were made with acknowledgement and thanks to New England, the City of Leyden, the State of New York, John Winthrop, John Smith and George Washington, among others.
NES also has a long, distinguished history of helping those in need. As early as 1806, we started a robust philanthropic program that encompassed social services such as distributing firewood for cooking and heating to those in need, providing annuities to impoverished widows and funding special projects created by inventive New England minds. Over the years, NES also responded to those suffering from natural disasters, providing funds for relief in the wake of the severe Vermont floods in 1927. In 1945, NES focused its philanthropic outreach on education and launched the College Students' Loaning Fund which provided emergency loans to students at New England colleges and universities.  Over 75,000 students received loans during the program's 45-year period. In 1953, we expanded our educational outreach and launched the NES Scholarship Program to help fund New York City students attending colleges and universities in New England. NES scholarships reduce student loan liability, lend confidence and provide a sense of achievement to deserving young scholars. Though our charitable initiatives have evolved over time, the underlying mission of assistance has remained constant.
Since 19th century, we have made many cultural contributions both locally and in New England.
In 1868, a bust of the statesman, politician, orator and New Hampshire native Daniel Webster by sculptor Thomas Ball was presented to the Society by a member of NES. The bust is now on permanent loan to Dartmouth College. The work was so well received that Ball went on to create a full-figure statuette of Webster. In 1870, Gordon W. Burnham commissioned a larger-than-life sized version of this statuette for Central Park. The statue is currently installed on West Drive near the West 72nd Street entrance.
In 1885, NES commissioned a bronze statue of a pilgrim by noted sculptor John Quincy Adams Ward, which was titled The Pilgrim and erected near the East 72nd Street entrance of Central Park. It is from this sculpture that Pilgrim Hill gets its name. On June 4, 1985, a rededication ceremony was held to mark the statue's centennial.
In 1920, NES donated $50,000 to build a fireproof portico for Pilgrim Hall (U.S. National Register of Historic Places) in Plymouth, Mass. The Hall houses the Pilgrim Hall Museum, the oldest continuously operated public museum in the country, having opened its doors in 1824.
In 1933, NES funded the construction of a replica of the Aptucxet Trading Post in Bourne, Mass., on Cape Cod. The post was established in 1627 to encourage trade among the Pilgrims and Native Americans.
And most recently, NES launched the New England Society Book Awards to recognize books that honor and promote New England culture.
Also of interest to NES is honoring the New England spirit. In 1952, NES established the Reginald T. Townsend Award, named for its then President, to recognize outstanding achievement representing the finest qualities of the New England character. Award recipients have represented excellence in a wide range of fields, from the sciences, academia and letters, to politics and the arts. Honorees include John Davis Lodge, Kingman Brewster, George Plimpton, Harrison E. Salisbury, Walter Cronkite, Charles Osgood, and most recently Leigh Keno and Leslie Keno.
Proud of its rich history, NES preserves and enriches the New England heritage for the New York community and beyond.
For more information:
View a timeline of the organization's history juxtaposed against U.S. history highlights.
Download a brochure about the New England Society.